100th Anniversary of Armistice Day – Connecticut During WWI
On November 11 this month we will be celebrating the 100th anniversary of Armistice Day which signaled the end of World War I. Over 67,000 Connecticut men served in WWI. Of these 1,100 died, many also from an influenza outbreak, according to the American Battle Monuments Commission.
Connecticut contributes to the war effort
Connecticut was also an important ammunition arms supplier. In New Haven Remington Arms produced 50 percent of the U.S. Army's small arms cartridges while Winchester Repeating Arms Company, also based in New Haven, produced machine guns. While these companies no longer produce arms and ammunition in New Haven and Bridgeport, during the time of WWI they were very important to the Connecticut war effort. Meanwhile Connecticut residents, not serving, bought war bonds and supported the United States in the war effort.
Submarine building in Groton picks up
In Groton the U.S. Submarine Base was put into major use for the first time since its establishment. 85 submarines and 722 submarine chasers were built for the U.S. Navy according to the Electric Boat Company. The base also expanded to provide the necessary buildings for constructing the submarines and providing the quarters for the sailors and officers.
The war ends
Many people were happy when the war finally ended and gathered in the streets in towns across the U.S. to celebrate. The photo below is Holmes Street in Mystic taken on Armistice Day 1918*.  Today the many buildings at the Sub Base and Electric Boat have not been used since war time. The Remington Arms plant in New Haven has since fallen into disrepair while Winchester Arms is still based in New Haven and continues to produce. Even though some companies that helped the war efforts have downsized and even moved out of the state, the presence and efforts by these Connecticut businesses helped the U.S. greatly in World War I.
Thank you, to all that have served in the U.S. military and continue to serve today!
v    Postcard of the Remington Arms Bridgeport, CT factory**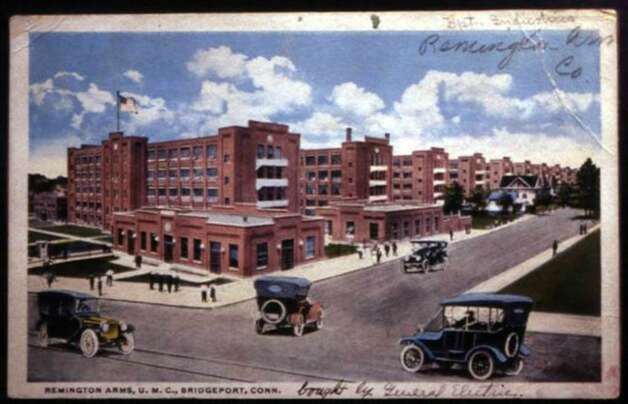 Winchester Arms New Haven, CT*** >  
*From Mystic Historical Society (Stinson Collection)
**From www.greenwichtime.com
***From thepolitic.org